Hollywood Smile - Cosmetic Dentistry
The Best Hollywood Smile Dentist in Beirut Lebanon and the Middle East: Dr.Habib Zarifeh
Hollywood Smile, celebrity smile.
Are you unhappy with your smile? Do you want to change your smile to improve the color, shape or length of your teeth? Or change the appearance of your gums or lips to give your overall smile a more appealing look? For many dental patients, getting a movie star smile – or even an everyday bright smile – takes more than simple brushing and flossing. Thanks to dental technology advancements available in Ferrari dental clinics Lebanon, you can have a runway-ready smile through a cosmetic dentistry smile makeover. Visit for more info our new website: http://www.lumineersbeirut.com
A recent survey revealed that:
Over 75% of people don't feel confident to smile in a photograph.
Over 45% of people make judgments about people by the look of their smile.
Over 75% of people think that a beautiful smile helps people psychologically.
Over 65% of people think that an attractive smile helps romantically.
A smile makeover is Art!
To do a beautiful smile makeover, a dentist needs a passion for beauty and a personality that loves to create things of beauty. Few dentists have this artistic inclination. Our team always pursues additional training to learn the skills necessary to create smiles - training in special bonding techniques, color manipulation, and in understanding of the special materials that are used in this highly specialized area of dentistry.
... And when you never thought it was possible!

... we are dedicated to create the smile you've always dreamed about!
You'll have a million reasons to smile!...
THE SMILE MAKEOVER PROCEDURE: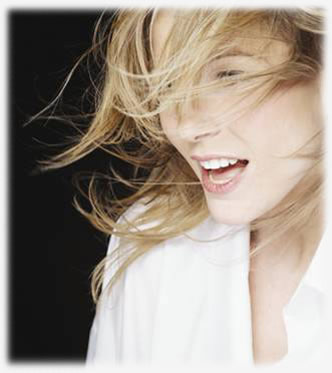 A smile makeover involves one or more cosmetic, dental or facial rejuvenation procedures to improve the aesthetics of your smile. Several of the procedures that dentists do to your teeth can be considered a smile makeover. Often, smile makeovers are a combination of procedures, such as straightening teeth, repairing a chipped or broken tooth, replacing missing teeth, re-contouring gums, whitening discolored teeth, and other cosmetic dentistry procedures.
Whatever the reasons for your dissatisfaction with your smile, there are many different ways in which you can improve your smile using modern cosmetic dentistry:
Chipped, broken teeth can be repaired. The treatment will depend on the extent of damage, but the options include cosmetic bonding, porcelain veneers or porcelain crowns.
An extreme makeover patient generally has multiple issues that need to be addressed.
We are dedicated to create every tooth for every case in order to give our patients
the smile they've always wanted!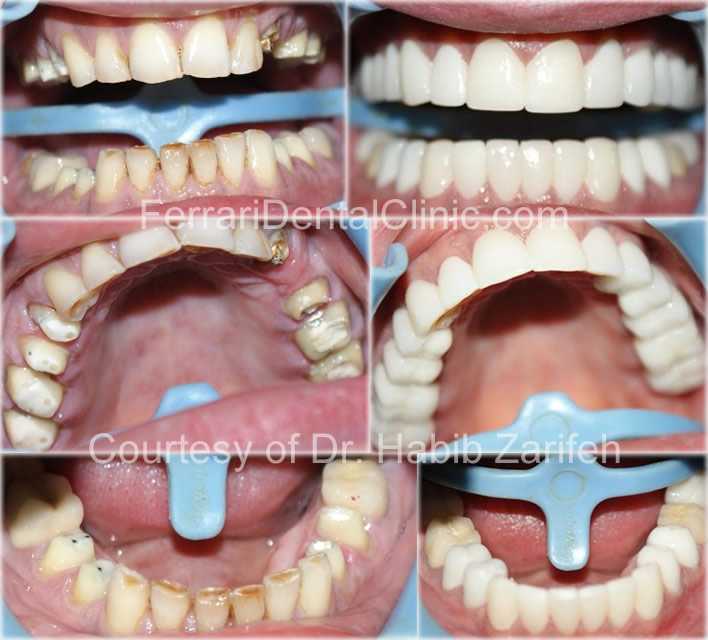 Crooked teeth can be straightened. With Invisalign braces or conventional orthodontics. Orthodontic treatment can also rejuvenate your facial appearance by reshaping the jaw, neck and lips, especially when combined with maxillofacial surgical procedures. They can also be covered with porcelain veneers for a faster solution, often referred to as "instant orthodontics". In this situation, the main disadvantage is that your teeth need to be prepared for veneers.
Missing teeth can be replaced. they can cause functional problems as well as being unsightly. Solutions include dental implants, a dental bridge or a denture.
Gaps between your teeth can be closed to give your smile a more even look. This can be achieved instantly with porcelain veneers such as Lumineers. Orthodontics can also be used to move the teeth and close the gaps between them. Invisalign invisible braces, the Inman aligner, Damon braces, lingual braces and fixed orthodontics are just a few options for moving your teeth to close gaps.
Lumineers smile:
Ferrari Dental Clinic is The Only Official Affiliated Lumineers Cerinate Clinic in Lebanon and the First Laser Lumineers Placement center in the Middle East.
Ferrari Dental Clinic is the Most Rated dental center for Hollywood Lumineers smile tourism in Lebanon (ref: the Arabian Business).

Zirconium crowns:

A gummy smile can easily be remedied- by laser gum contouring or crown lengthening.
Gummy Smile surgery and Composite Veneers placement:

Discolored or stained teeth, they can be treated with professional teeth whitening.
Deep smile lines, frown lines or lips that have lost their fullness, can all be improved using a combination of Botox and dermal filler treatments.
If an issue in the mouth is too difficult to correct with orthodontics or basic dental procedures alone. A maxillofacial surgery may be needed to remove severely impacted wisdom teeth, address facial pain, or fix overbites and jaw deformities. Typically, training for maxillofacial surgery includes reconstructive surgery, so that the surgeon can rebuild areas of the face, which are in need of it.
In all smile makeover cases, gum tissue provides not only the aesthetic framework but is the foundation that will hold your teeth and all the restorative dental work.
The end result of a smile makeover for many people is a smile to be proud of, one that is straight, white and perfectly aligned.
The smile makeover may involve one or more technique:
Anterior Lumineers placement and Posterior Skeletal Denture to a 60 year old patient:

Dentists will use a variety of different tools and technologies to help design smile makeovers.