A Fantastic, Simple, Fast and Hassle-free way of straightening your front teeth!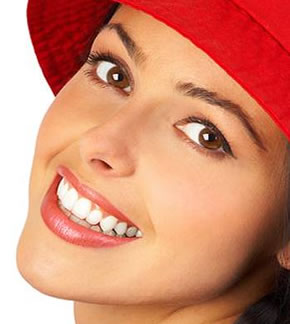 The Inman Aligner now gives us all a very real alternative for braces. Because it works so quickly and efficiently, if you don't like the idea of having brackets stuck to your teeth or waiting months and months for a clear brace to work, you can now have your front teeth straightened in as little as 6 -16 weeks.
Advantages of Inman Aligners:
They are an alternative to Braces,
Only one appliance is required - no need to change every 2 weeks,
Results are usually faster than fixed or invisible braces, Most cases complete in 6-16 weeks,
They can be easily removed to eat and clean your teeth,
Comfortable, patients have no problems wearing it and it will quickly feel like it belongs in your mouth.

Why should you use Inman Aligners?
As time goes by, your teeth may move causing your teeth to become crooked, some people have naturally crooked teeth. Most people believe that they would need fixed metal braces, however the Inman Aligner can be used to move your front teeth to an ideal position quickly and effectively in a matter of weeks.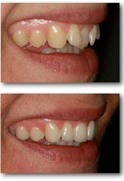 At frist glance, you may think , as most people do, that you need braces, however with the patented Inman Aligner, your front teeth can be gently guided to an ideal position quickly and effectively, in a matter of weeks.
This patient was really unhappy about the crowding of her front teeth. She wore the Inman Aligner for only 7 weeks to acheive this amazing result!
In the past anyone with crooked teeth have had only a few choices. Fixed braces and clear braces work well but are slow.
Because of this many people choose to have porcelain veneers instead. This often involves heavy grinding of the teeth to get them into the right position first. As a result many patients choose to do nothing and just live with it. Therefore, anyone considering veneers to align their teeth now has a far more conservative solution. You might not even need veneers at all.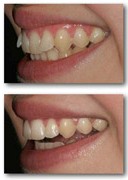 The Inman Aligner is not just an orthodontic appliance. Many cosmetic dentists are calling it the "missing link between orthodontics and cosmetic dentistry."
This patient had considered porcelain veneers to correct her incisor teeth as she didn't want to wear fixed braces. This case only took 6 weeks with Inman Aligner. She was able to get the result she wanted without veneers and in much less time than fixed braces!
Even if veneers are absolutely necessary because your teeth are so discoloured and mis-shapen, the Inman Aligner the perfect way to align the teeth first quickly before the veneers are prepared. This way you can get a far more conservative solution.
How does the Inman Aligner Work?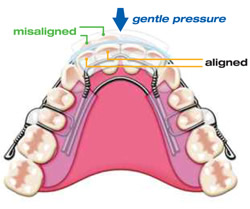 The Inman Aligner applies a gentle Pressure to the teeth that need to be moved to an ideal position. This gentle process is provide by the spring action of the appliance. Once your teeth are corrected, the Inman Aligner works like a retainer and holds them in place. The spring action force utilizes a lingual coil spring that puts pressure on the teeth that need repositioning and a labial bar that reverses the same pressure. These components work together to "squeeze" teeth together by pushing and pulling them into alignment.
Compliance is paramount. The Aligner will only work if you wear it every day for the treatment time. Ideally patients should wear the Aligner for 20 hours a day maximum. Any less and the treatment could take longer to complete.
It should always be removed before eating and you should clean your teeth and your aligner before you refit it back into your mouth.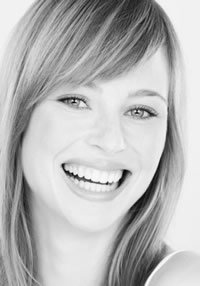 The Inman Aligner is designed to treat the upper and lower front teeth. After an evalation, your doctor can determine if the Inman Aligner is right for your particular case, and will recommend treatment options.
This patient was unhappy with the crowding of her upper teeth. She wanted an option that was fast and removable. Her remarkable transformation was completed with only 9 weeks with an Inman Aligner!
Enjoy the confidence of a great new smile in the minimum time...why wait longer?